I am relieved to report that Scout's surgery went well and she is doing just fine!!  I dropped her off Thursday morning at 7:30 AM and headed into work.  I spent the next few hours glued to my phone waiting for the news.  At approximately 1PM I got a call from both the oncologist (who is handling her recovery) and the surgeon that the procedure went well and her vitals were stable.  What a relief!  They expected to keep her two nights for monitoring and I could visit her Friday.  They discouraged me from visiting the day of surgery so that she could rest.
Friday morning I got a follow up call that she was still doing well and that they were going to check her renal levels to make sure everything was holding in a good place (what I was most worried about).  That afternoon I got out of work early to go visit her.  The nurse mentioned she hadn't been eating and brought some food to me so I could give it a try.  She gobbled it all up immediately.  It was hard to see her with the large incision and heartbreaking to watch her try to move.  She is slowly getting better but that first day after surgery she could hold herself up and each step was followed by a nosedive into the floor.  I spent that evening sewing arm holes closed on baby onesies.  Let me tell you that trip to target was FUN.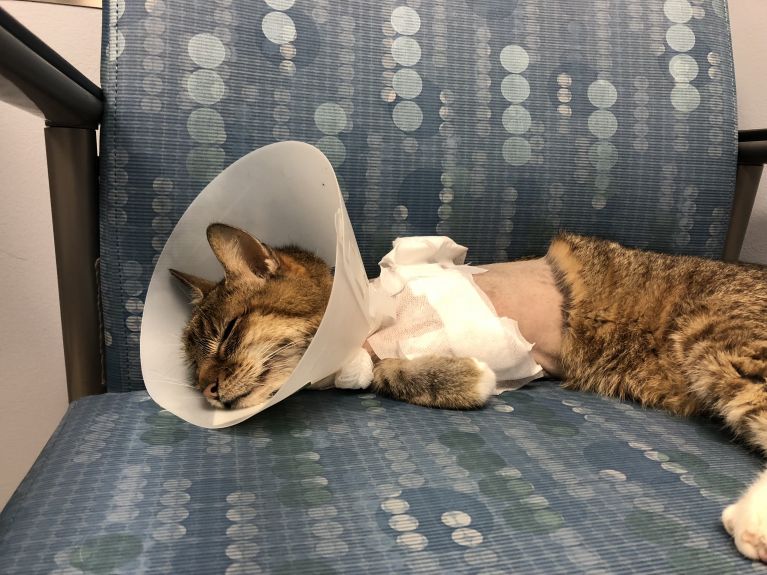 Saturday morning I went and picked her up and she shot into her carrier as soon as it was presented.  I knew she wanted to come home too.  She is resting in her tent and has eaten, enjoyed some cat milk and used the litter box.  All good signs.  Thankfully the onesies are working out and she is out of the cone.  I did have to make a modification to the shoulders to keep the head hole small.  The first attempt resulted in her wearing it as a tube top.
For others about to go through this for reference Scout is about 9 pounds and is wearing the 0-3 month size.  I followed the instructions from this post from Purrkins with the addition of sewing the shoulder folds closed to make sure the head opening did not stretch.  I purchased the newborn size as well but that fit tightly on her body and I was concerned about the pressure on the incision and it being uncomfortable.
I am spending a lot of time with her in the tent.  She falls fast asleep as long as I am in here with her and gets a bit restless when I leave.  So far day 3 as a tripawd and day 1 home is going well.  What a relief!